光催化氙灯光源
LAX-C100是标准100 W的氙灯光源。其的镜面模块屏蔽了热量和杂散光,得到理想的波长范围。LAX-C100也可以通过带滤光器形成单色光。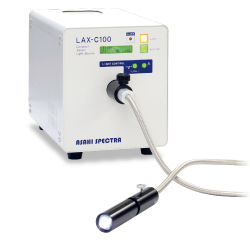 LAX-C100
Heatless illumination with desired wavelengths
Features
通过镜面模块屏蔽红外热源*

内置滤光器稳定架/稳定器*

光亮度可调

光导柔性照明

无需校准光轴

RS232C远程控制
The mirror module blocks the heat and stray light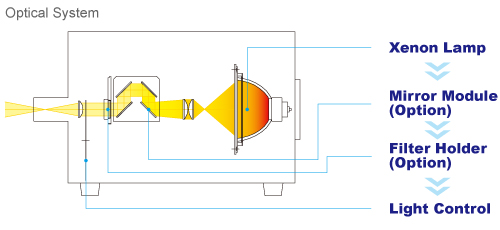 Monochromatic Light with Optical Filters
Monochromatic light output by optical filter
Bright monochromatic light

Instead of multiple wavelength laser

Output beam is brighter than monochromator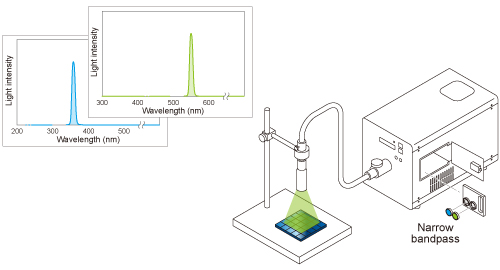 UV Light Source
UV light output without IR heat
Bright UV light

It is also possible to obtain the desirable UV wavelength range with
the combination of optical filters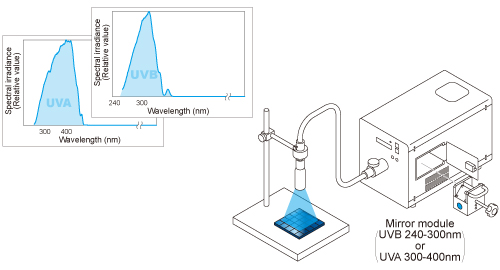 Mirror Module (Option)
This sophisticated optical unit consists of four cold mirrors to block unwanted energy from xenon lamp and only desired throughput is obtainable. The LAX-C100 offers 4 types of mirror module.

Light Guide
The illuminating light from the LAX-C100 is delivered to the point of use by the light guide efficiently.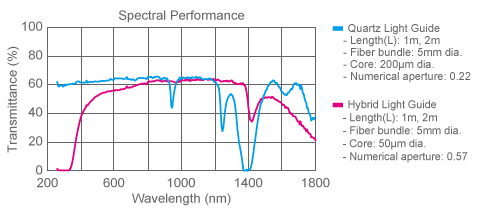 Collimator Lens
Collimator lens reduces the divergence of light from the light guide and provide uniform light output. It is suitable for directional backlighting which requires clear silhouette of an object.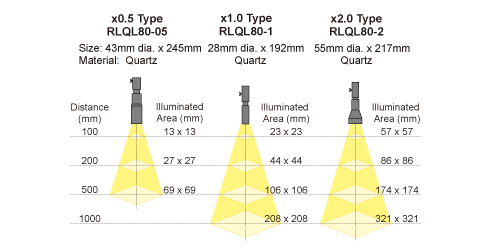 Specifications
Model

LAX-C100

Output wavelength

240 - 1000nm

(It depends on the mirror module.)

Circuit method

Switching power supply

Input voltage

AC100V 50/60Hz (Input range: AC 90 - 132V)

AC200V 50/60Hz (Input range: AC198 - 264V)

*Select input voltage when placing an order.

Apparent power

Less than 350VA (100V/50Hz)

Less than 440VA (240V/50Hz)

Lamp type

Xenon lamp 100W

Lamp voltage, current

12.8 - 14V 7.2A (DC) *Representative value

Lamp life

500h (Average)

*When the light intensity has decreased by 50% from the initial value.

Optical axis alignment

Cartridge type (Alignment-free)

Cooling method

Forced air cooling

Shutter

Pulsed motor drive

Light intensity control

100 - 5 (Steps) Continuously variable

Controller

Built-in

Remote control

RS232C

*The cable must be less than 3m

Safety mechanism

Xenon lamp problem, Rear door is open,

Lamp usage exceeds 500 hours, Cooling fan problem,

Temperature anomaly

Recommended environment

Temperature 10 - 35 deg C

Humidity 20 - 80%

*Avoid condensation

Dimensions

200(W) x 340(D) x 245(H)mm

Weight

8.2kg